Spend time, not money on an end of term thank you gift for a teacher
There's a growing trend to buy more and more elaborate thank you gifts for teachers, in the states it's called 'Teacher Appreciation Day'. It's lovely to show your appreciation for a teachers hard work, but it needn't cost you a fortune - especially if you have more than one child at school.
We think it's better to get your kids to make a homemade teachers gift or even simply a card, it really comes from the heart then, and not the wallet. The teacher will be extra impressed with the effort, especially if your infant school kids use their new writing skills on the card.
We have found a few great ideas for inexpensive thank you gifts for teachers.
You can also browse our Pinterest board for even more brilliant suggestions and
tutorials for homemade

thank you gifts for teachers.
Roll up tote bag tutorial
Teachers are always in need of a spare bag - they'll probably need one to put all their end of term gifts into! This one rolls up and has a handy 'snap fastening'. This would be a great gift for an older child to make - or for a younger child to help you with as you need to get the sewing machine out.
Paper Flowers
A bunch of flowers that will last forever! We found so many brilliant tutorials for paper flowers but we think these tissue paper roses are probably the most simple, you want your kids to enjoy making the gift, not just watching you make it (although it is tempting to take over!)
Felt Wise Owl Tutorial
This tutorial from felt queen Lupin of popular blog bugs and fishes is great. Teachers and owls have a certain something in common! We thought that you could aslo adapt this tutorial into a no sew, by simply sticking the 2d owl onto a card - making this something even a 5 year old could attempt with a little help cutting out the shapes.
Homemade Edible Bunting Biscuits
You can't really go wrong with edible bunting can you! These would look gorgeous presented in a pretty cake box on tissue paper. This make is not as difficult as it may first appear, and won't cost you much at all, the trick is not to forget to make the holes in the top of the biscuits - other than that it's really just a classic biscuit recipe. If the icing looks a bit complex you could always swap it with the technique where you just mix up a little egg yolk with food colouring and paint on the colour before you bake them. Like in this recipe from the
Klutzy Cook
- no chance of the icing falling off in transit then either.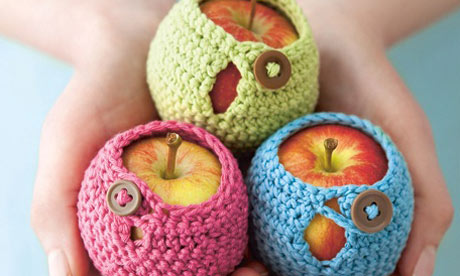 These have teacher written all over them! Do you recognise them from the fist issue of Mollie Makes? If you know how to crochet, making up an apple cosy like this is 'apparently' pretty simple. It would be a great gift for a teacher, your child could help to pick the colour and the button out.
However if you are not a crochet queen quite yet, there are simple instructions available all over the internet for getting started with crochet - so this may be one to leave until next year! (Now that would be serious preperation!)
Many more ideas can be found
here
! Have you decided on a gift for your teachers?